Ukiyo-e Heroes
We have a policy against posting unrealized Kickstarter projects (there are simply too many interesting projects and we have decided not to play favorites). But Jed Henry's "Ukiyo-e Heroes" project has met its funding goal and officially launched, so we can write about it.
a proof of "Rickshaw Cart" by Jed Henry
Henry has made a series of images designed in the manner of ukiyo-e prints, each of which alludes to a classic video game (depending on your age and your definition of "classic").
In itself, this is really not that unusual a conceit. Such mash-ups proliferate wildly as young creatives attempt to reconcile a global culture that is at once increasingly connected and increasingly fragmented. But what's great about this project is that Henry has gone beyond the usual "limited edition giclée" tropes, turning to the workshop of master printer David Bull to create prints of the images using traditional Japanese techniques. In a thorough YouTube video, Bull demonstrates the process: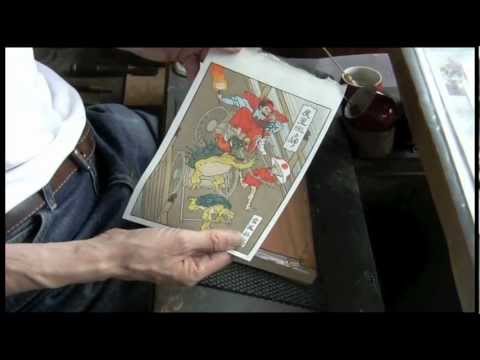 detail view of the print (based on Mario Kart)
This is yet another intriguing example of how our increasingly digital culture has (paradoxically) supported the creation of more printed art. Luddites be aware: even the most traditional disciplines may benefit from new technologies.
Bookmark / Share / Print